Children's Dentist – Hoover, AL
Meeting the Needs of Your Youngest Family Members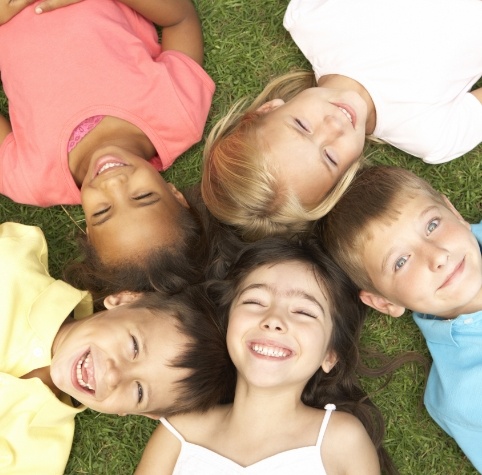 Children require a particular standard of dental care for a number of reasons. Not only is it incredibly important to protect their developing smiles, but it's also essential to create an environment that makes them feel comfortable, regardless of why they need to visit. Dr. Moulton and his team will always give your child the attention they deserve, whether they need a routine teeth cleaning or dental filling placed. Call our dental office today to get them scheduled for a children's dentist visit in Hoover, AL!
Why Choose Moulton Dentistry of Hoover for Children's Dentistry?
Treatments Personalized to Every Patient Regardless of Age
Warm and Welcoming Dental Office Environment, Dentist and Team
Runs on Time and Accommodates Your Busy Schedule
Your Child's First Dental Visit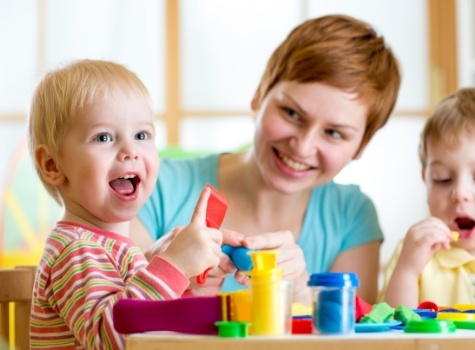 We recommend that you bring your child in to visit our dental office by the time they turn one year old or after their first tooth erupts. By taking a look at your loved ones' smile early on, we can begin to plan for their oral health in the future. Dr. Moulton is an upbeat, friendly, and gentle children's dentist in Hoover who makes an effort to help all his young patients feel comfortable, especially during their first dental visit.
What to Expect
Upon your arrival, you'll be able to go back to the patient room with your child, and we may even ask you to hold your son or daughter while sitting in the dental chair to make them feel more comfortable. This first visit is about getting your child familiar with a "stranger" touching their teeth and gums—it's less about performing any real dental care. Dr. Moulton may take X-rays to get a better idea of when the rest of your little one's teeth will grow in. That way, you can work together to get ready for the rest of their baby teeth. This is also a good opportunity to get some easy yet helpful at-home oral healthcare tips from Dr. Mouton. Of course, if you have questions, he will be more than happy to help in any way that he can!
Dental Insurance
If your child is on your dental insurance, we can easily file your claims and answer any questions you may have about our affordable dentistry. Remember that our preventive dental checkups and teeth cleanings, the most important visits for your children, are typically covered by your insurance plan. That's why it's a good idea to contact our dental office prior to your visit to ensure that we have all the information we need from you—we take pride in making it simple for you and your loved ones!
Preparing for Your Child's Dental Appointments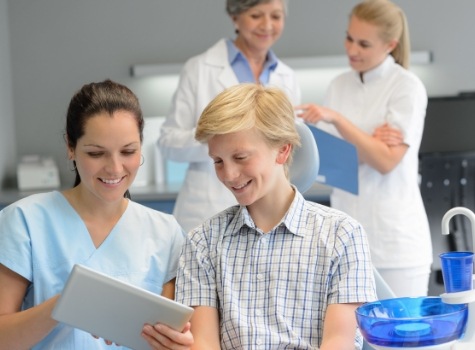 Dentistry is rarely an activity that people look forward to. In fact, many develop dental anxiety or fear that can lead to oral health issues from avoided treatment. That's why it's vital that you prepare your child for their dental visits with positive reinforcement. Encourage them, smile, and remember to stay calm and happy. Even at a very young age, your son or daughter can sense when you're feeling stressed or nervous. Whether it's their first visit or just a routine checkup, explain why the appointment is important, prepare them for what may occur, and remind them that you'll always be there if you need them.
Dental Checkups & Teeth Cleanings for Kids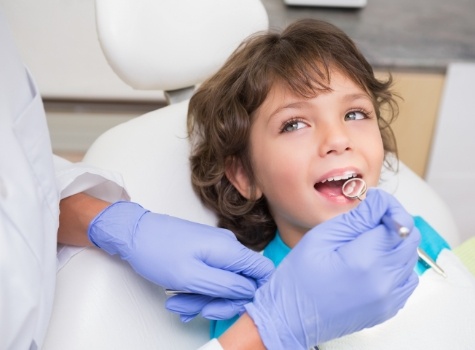 Teeth are susceptible to decay as soon as they erupt, which is exactly why we recommend that you bring in your child by their second birthday. During their initial dental checkup, we'll briefly examine their mouth, then provide helpful advice on how you can help them maintain good oral health in the future. Once more teeth erupt, we'll begin performing gentle, yet detailed cleanings of their mouth.
Learn More About Dental Checkups & Cleanings for Kids
Dental Sealants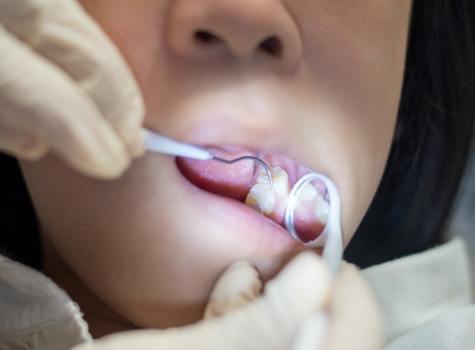 If your child is struggling with cavities, their oral care routine may not be the only cause. While teaching your children brushing and flossing matters, food debris can easily get caught in teeth with deep pits and fissures, which includes molars and premolars. By applying a thin, composite resin to the chewing surfaces of these teeth and curing the material, you can provide your child added protection as they get used to their oral care routine. Dental sealants are an effective way to reduce the risk of plaque development and provide about ten years of protection.
Learn More About Dental Sealants for Children
Fluoride Treatments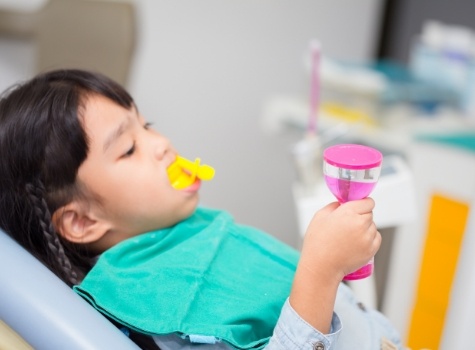 Part of keeping your children's teeth strong is making sure they are getting enough fluoride, whether it's in their diet or in the oral care products you provide them. Fluoride is an essential mineral for protecting and strengthening existing tooth enamel. After their teeth cleaning, we'll gently apply a fluoride varnish to their smile, which only takes a few minutes to complete. It's one of the most effective treatments available for preventing future tooth decay and ensuring that the remineralization process can occur.
Learn More About Fluoride Treatment for Kids
Tooth-Colored Fillings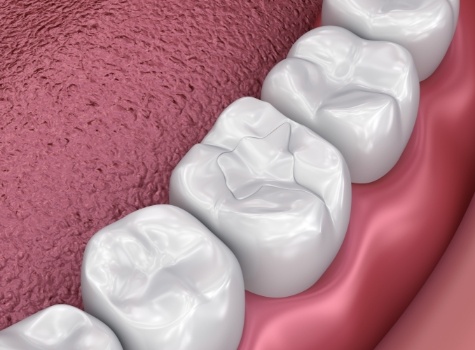 In the event that your child develops a cavity, we want to do everything possible to prevent the tooth from worsening in condition or falling out too early. With composite resin, which is a material made of both glass and plastic, we can restore their tooth to its natural luster. Not only does this keep their tooth intact, but it does not require the use of any metal material whatsoever. With proper oral care, there's no reason their filling shouldn't last ten years without issue.
Learn More About Tooth-Colored Fillings for Children
Children's Dental Emergencies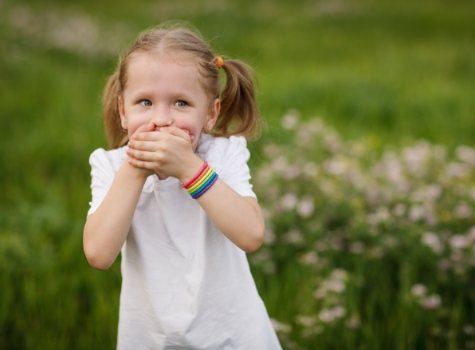 Try as you might, life happens. There are plenty of ways your child may find themselves with a broken, painful, or knocked-out tooth. While we hope your son or daughter never experiences a dental emergency, we're here to help should one of these scary situations occur. We offer same-day emergency dental appointments and use the latest dental technology to get your little one out of pain and protect their precious smile as soon as possible.
Learn More About Children's Dental Emergencies
Children's Dentistry FAQ's
We want to help you protect your favorite smile! However, we know that you may have a few questions before scheduling their appointment. To help, we have listed a few frequently asked questions below.
Are My Child's Baby Teeth Important to Their Overall Health?
Since primary (baby) teeth aren't permanent, many parents wonder whether they are important to their oral and overall health. The answer? Absolutely yes! In addition to helping your little one smile at the park, their baby teeth also allow them to chew their favorite meal and enunciate their words. That is why our dental team goes above and beyond to keep their smile in pristine condition from their first baby tooth to their last molar!
Why Is It Important for a Child to See the Dentist at an Early Age?
According to the American Academy of Pediatric Dentistry, parents should schedule their child's first visit to the dentist around 12 months of age or when their first tooth erupts. In the short-term, visiting the dentist at an early age ensures their teeth are free from tooth decay and cavities. Plus, these routine visits often give parents guidance on what to expect from their child's ever-changing smile and how to care for it properly. In the long run, starting routine visits at a young age can instill good oral care habits and prevent a dental phobia from developing!
Does My Child Need Dental X-Rays?
X-rays are a valuable tool that allows us to see what is going on between your child's teeth. However, they may not need any taken during their first couple of visits. Once their teeth begin to grow close together, we recommend having them completed so we can get a deeper look at the condition of their teeth and gums. If you are unsure if your child needs to have X-rays taken at their next appointment, don't hesitate to ask!
What Should I Do If My Child Has a Toothache?
If your child is wincing when they eat or share with you that they are experiencing pain stemming from their mouth, it is important to ask questions. For example, which tooth is bothering them? What does the sensation feel like? How long have they felt the discomfort? From there, ask them if they are comfortable with you looking in their mouth. If they agree, look for any inflammation, bleeding, or other abnormal symptoms. From there, schedule an appointment with our kid's dentist for an exam! We will treat the root of the issue so your child gets the fast, effective relief they deserve.
Should I Worry About Thumb-Sucking?
Thumb-sucking is a common habit that many children find comfort in. Unfortunately, it can introduce their mouth to the bacteria on their hands and shift their teeth out of place. Therefore, it is a good idea to encourage them to quit the behavior. If you are having difficulty, we would be happy to help share some tactics that have worked for patients in the past!