Dental Implants — Hoover, AL
Restore the Whole Tooth, Not Just the Crown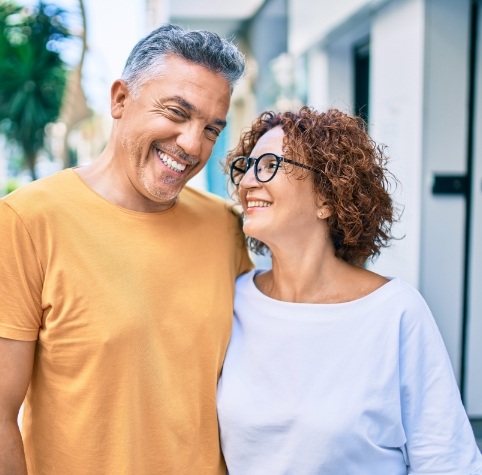 While dentures and dental bridges help prevent shifting teeth by filling the space left behind after tooth loss, they won't necessarily address the underlying restorative problems that can still develop. For example, only dental implants can stimulate bone tissue, which keeps your biting force strong. When you visit Moulton Dentistry of Hoover, Dr. Moulton will make sure that your implant's restoration is crafted to your exact specifications. Whether you need to replace one tooth or all the teeth in your smile, his dental office is prepared to answer your call. Contact us today to learn if dental implants in Hoover are right for you!
Why Choose Moulton Dentistry of Hoover for Dental Implants?
Partnered with Dental Implant Specialists
Personalized Dental Care
Efficient Care in a Relaxing and Modern Dental Office Environment
What Are Dental Implants?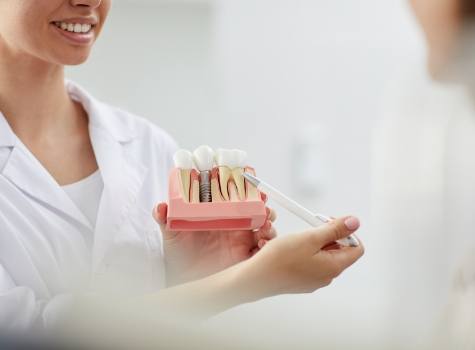 Dental implants are created from durable, biocompatible materials designed to integrate with your body, ensuring longevity and functionality for decades. Once placed, you can expect your tooth replacement to simulate the same functions of your natural tooth, giving you the confidence to smile, eat food, and speak with clarity. While other options are available for replacing teeth, dentists often recommend dental implants first if patients are eligible to receive them. This is because they have quickly become the gold standard for replacing teeth and give patients more confidence to smile.
The Dental Implant Process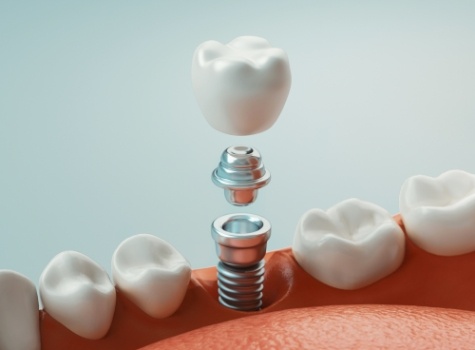 Dental implants include two major steps: the surgery and the restoration. Dr. Moulton works with top dental implant specialists in Hoover to perform the placement portion of your dental implant treatment, ensuring that we are maximizing the bone tissue that's present in your jaw. Once the implant has healed, we can place an abutment, which stabilizes the restoration. After capturing an impression of your implant with the abutment attached, we'll design a restoration that fits on top. The amount of time needed to complete treatment varies depending on how many teeth you intend to replace (i.e. a single tooth implant vs. a three-unit dental bridge.)
Benefits of Dental Implants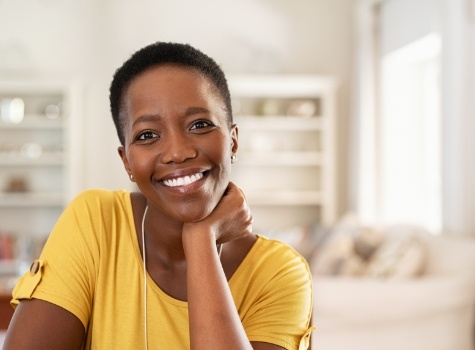 In recent years, dental implants have become the most popular solution for missing teeth. Because of their unique placement inside the jawbone, they're able to provide a wide range of benefits that you simply can't get with more traditional options like dentures and dental bridges. To learn more about the benefits of dental implants in Hoover, contact our office and schedule a consultation today. We'll gladly review your treatment options and help you find the tooth-replacement choice that will best suit your needs.
Day-to-Day Benefits
We use our teeth every day to speak, eat, and smile. For that reason, it only makes sense that you'd want a tooth-replacement solution that'll allow you to live your day-to-day life with ease. Fortunately, dental implants can help you do just that by giving the following benefits:
More biting strength. Since dental implants replace the entire structure of a missing tooth, they're able to withstand the chewing of virtually any food.
Easier oral hygiene. With dental implants, you don't have to worry about incorporating complex steps into your oral hygiene routine or purchasing special cleaning products. All you need to do is care for them as you would care for natural teeth!
Increased confidence. Unlike dentures, your implants will stay firmly in place once they've successfully fused with the surrounding bone tissue. They'll allow you to eat, speak, and smile with much more confidence.
Health Benefits
Aside from appearance, dental implants in Hoover offer multiple health advantages as well. Some of those include:
Jawbone preservation. Because dental implants stimulate the jawbone, they can keep it strong, healthy, and functional for a lifetime.
Protection for natural teeth. It's common for teeth to shift after tooth loss. Fortunately, dental implants can prevent that from happening by serving as a placeholder to ensure every tooth stays exactly where it belongs.
Better overall health. Studies show there's a correlation between tooth loss and an increased risk of multiple diseases. Because implants are so similar to natural teeth, it's reasonable to believe they can help lower such risks.
Long-Term Benefits
By choosing to get dental implants now, they can help you for years to come with the following benefits:
High success rate. Dental implants have an impressive success rate of about 95 percent, even 20 years after they've been placed.
Youthful appearance. Since implants stimulate blood flow in the jaw, they help prevent its deterioration and the sunken, aged look that often happens with tooth loss.
Long-lasting results. Unlike dentures and dental bridges, your implants can last decades without needing replacement. Speaking of dentures, your implant dentist in Hoover offers implant-retained dentures!
Who Dental Implants Can Help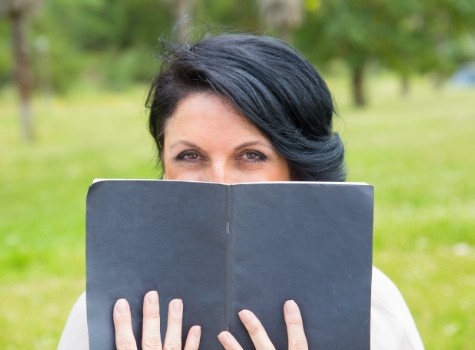 Much like dental crowns, dental implants are very versatile. You can replace individual teeth as well as all the teeth in a given arch with ease. To learn how you can replace single, multiple, or all teeth via dental implants, keep reading!
Missing One Tooth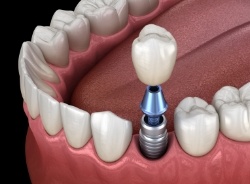 A single titanium post is placed inside of your jaw, then an abutment (connector) is attached after the implant has fully healed. Once gum tissue has healed around the tooth, a porcelain crown is placed on top.
Missing Multiple Teeth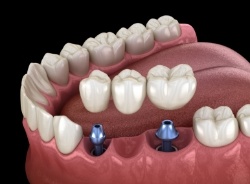 Implants can be paired with dental bridges to replace multiple consecutive teeth. If you'd prefer to retain as much of your existing tooth structure as possible, using a pair of dental implants to hold a three- or four-crown bridge is likely the most ideal option.
Missing All of Your Teeth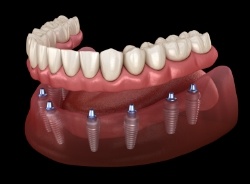 Dentures, whether they be full or partial, can be designed to attach to dental implants. This addition makes your denture more stable overall, preventing it from sliding and shifting out of place as you eat or smile.
Understanding the Cost of Dental Implants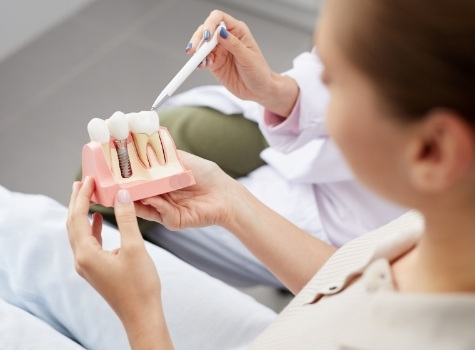 If you're considering replacing your missing teeth, you're probably wondering about the cost of dental implants in Hoover. This amazing dental treatment is life changing, which is why it should be treated as an investment. That's why Dr. Moulton wants all his patients to have the information they need to make a confident choice in implant treatment. Keep reading to learn everything you need to know about the cost of dental implants!
Preliminary Treatments & Dental Implant Surgery
The entire dental implant process has multiple stages that may vary from patient to patient, so it's a good idea to keep this information in mind when considering the final price of your treatment plan. Each stage of dental implant treatment incurs a unique cost. For example, you'll first need to come into our office for a consultation. Any preexisting dental issues will also need to be treated before getting your dental implants, such as gum disease and/or tooth decay. We may also need to perform extractions of teeth, which maintains its own cost.
The Parts & Type of Your Dental Implant
One of the many factors that can influence the cost of your treatment is the types of dental implants that you'll need. We offer implant crowns to replace a single missing tooth, and we can restore multiple consecutive lost teeth with an implant bridge. If you're missing all or most of your smile, we may recommend an implant denture. This is a denture held in place with anywhere between 4 and 6 dental implants.
Are Dental Implants Worth the Investment?
While dental implants do come with a higher cost compared to standalone bridges and dentures, they are well worth the investment. Dental implants provide you with a variety of unique benefits, and they're made to last for a lifetime. This could actually save you money down the road from fewer replacements and the dental visits that go with them. Additionally, they prevent issues like jawbone deterioration, saving you from problems like additional tooth loss and aged facial appearance. Plus, you simply can't put a price on the way that implants can mimic the look, feel, and function of your natural smile.
Does My Dental Insurance Cover Dental Implants?
Typically, dental insurance does not see dental implants as a necessary treatment, which is why they're usually not covered. However, some plans will cover certain aspects of your treatment, including the consultation or gum disease treatment. This will all depend on your plan. Our front desk staff is ready to help you maximize your benefits while minimizing out of pocket costs. We are happy to answer any questions you may have, and we also have financing options available to make our quality care affordable for any budget.
Dental Implant FAQs
While dental implants in Hoover are considered the gold standard when it comes to tooth replacement, you probably have some curiosities about how the procedure works and what you should expect. Thus, we've highlighted some of the more frequently asked questions, so you can have a better understanding of what the dental implant process entails. To get even more information and to undergo an initial evaluation, don't hesitate to contact us at Moulton Dentistry of Hoover to schedule a visit with Dr. Moulton.
Is Dental Implant Insertion Painful?
When you undergo dental implant insertion, you won't have to endure a painful experience. That's because before any work starts, Dr. Moulton will completely numb the treatment site.
However, after the initial procedure is done, you may experience some slight discomfort, but it's typically easily managed with an over-the-counter pain reliever.
How Long Do Dental Implants Last?
One of the major perks of receiving a dental implant is the longevity that it offers. With proper care, which should include brushing and flossing twice daily and visiting Dr. Moulton semi-annually for teeth cleanings and dental checkups, your implant can last 30 years or more.
Will I Be Able to Chew Normally with Dental Implants?
Dental implants are like no other form of tooth replacement, especially when it comes to its ability to restore your natural chewing capacity. For example, a set of dentures will usually allow patients to regain around 25% of their original capabilities, while dental implants can restore up to 95%. That translates into a fully functional set of teeth.
Are Dental Implants Natural-Looking?
The benefits of dental implants aren't just functional. Because the titanium fixture is surgically attached to the underlying jawbone, it literally replicates the missing tooth root. Thus, you'll be left with a natural-looking smile.