Cosmetic Dentist – Hoover, AL
Detailed, Personalized, and Comprehensive Smile Transformations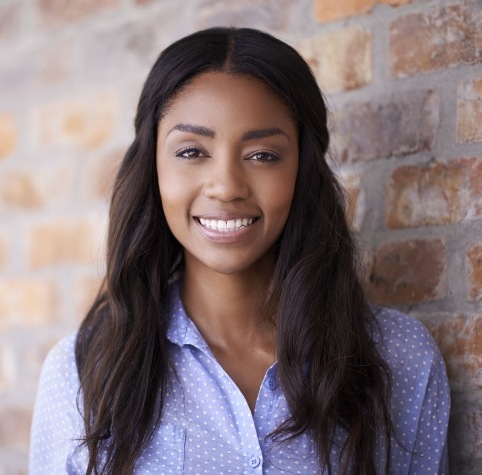 Dr. Moulton works hard to help patients achieve positive oral health, but that doesn't mean he can't give their smile an aesthetic boost in the process. For many, having good oral health isn't enough if they can't even feel confident showing their smile to others. With the help of personalized teeth whitening treatments, lifelike dental materials, and advanced gum tissue procedures, you can transform your smile and achieve a look that makes you feel confident! To get started, contact our dental office and schedule your consultation for cosmetic dentistry in Hoover!
Why Choose Moulton Dentistry of Hoover for Cosmetic Dentistry?
Take-Home Teeth Whitening Kits Available
Metal-Free Dental Restorations with Emax and Zirconia
Soft Tissue Laser Provided for More Comfortable Gum Recontouring
Veneers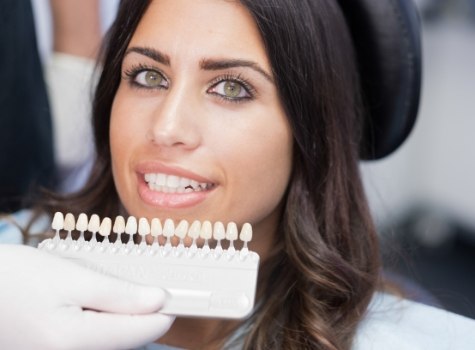 When you have multiple imperfections in your smile, dental veneers can offer an all-in-one solution that is comprehensive at its core. Veneers utilize ultra-thin sheaths of dental ceramic in order to hide chips, cracks, discoloration, and even gaps all with one treatment. Because of their incredibly lifelike appearance, veneers blend in perfectly with your existing teeth and remain indistinguishable from natural enamel. With proper care, they can remain in good condition for well over a decade.
Cosmetic Dental Bonding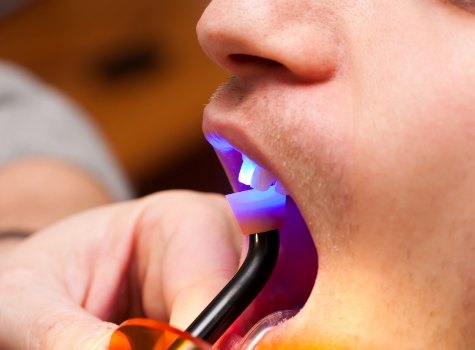 For relatively minor dental imperfections, cosmetic dental bonding can give your smile a new boost of confidence in just one appointment. We simply sculpt tooth-colored composite resin into place to hide stubborn stains, chips, gaps, or even misshapen dental structure. While this method isn't as convincing or permanent as veneers, many patients prefer its affordability and speed.
Learn More About Cosmetic Bonding
Metal-Free Dental Restorations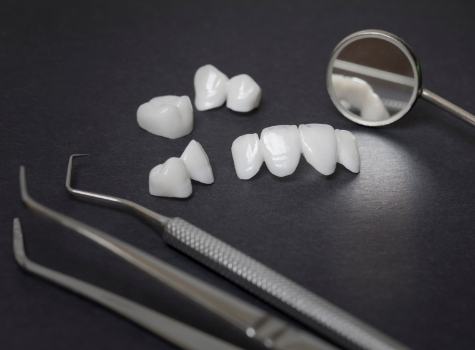 Part of achieving the most natural looking smile possible is incorporating materials that effectively blend and mimic tooth enamel. Instead of relying on the metal materials of the past, our dental office designs and creates crowns with Emax and zirconia materials in mind. These natural-looking and durable dental ceramics are proven to stand the test of time, while still ensuring that your smile looks incredibly natural. Whether you need a dental crown or set of veneers placed, you can rest knowing that we make your appearance a priority.
Teeth Whitening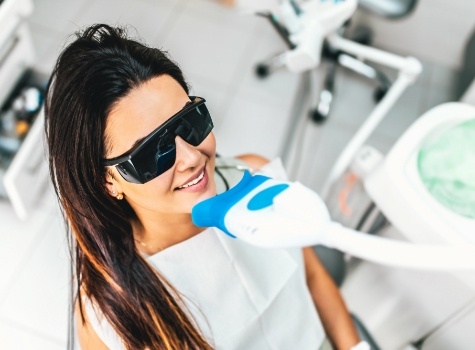 If you've been disappointed with over-the-counter whitening products because they didn't help you achieve your ideal smile, then you'll enjoy what our take-home teeth whitening solutions have to offer. Ultradent's whitening trays are ideal for whitening teeth when you're on the go, allowing you to whiten your smile entirely on your own time. Simply fill the trays with bleaching gel, wear them for a set period of time, then remove and rinse them until you're ready for their next use!
Learn More About Teeth Whitening
Gum Recontouring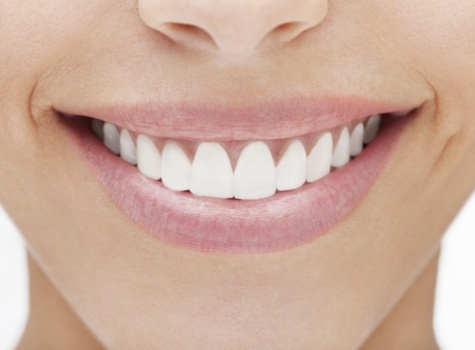 In some cases, it's not actually the teeth themselves that need modifications. Instead, it's the gum tissue covering up tooth enamel that needs to be adjusted. Through precise and detailed laser gum therapy, it's easy to remove excess gum tissue, which can easily result in a what some refer to as a "gummy" smile. Not only can we remove this tissue, but we can make sure that your gum line is significantly more even.
Cosmetic Dentistry FAQs
Your cosmetic dentist in Hoover can give you the picture-perfect smile you desire; however, it's normal to feel apprehensive. Cosmetic dentistry is a big investment, but there's no reason to worry. Dr. Moulton will explain everything during your cosmetic dentistry consultation to calm your nerves. While you wait for your appointment, here are the answers to a few frequently asked questions.
Who is a candidate for cosmetic dentistry?
If you are embarrassed by your teeth, you're likely a candidate for cosmetic dentistry. Most people who have healthy teeth and gums can benefit from elective procedures. Your dentist in Hoover, Dr. Moulton, will examine your mouth and learn more about your concerns to determine if cosmetic dentistry can help you. If he finds any oral health issues, like tooth decay or gum disease, they'll have to be treated before revamping your smile. A healthy mouth is the foundation for a beautiful smile. Once your oral health has been restored, Dr. Moulton can correct many aesthetic imperfections, including:
Stains and discoloration
Gummy smile
Chipped or cracked teeth
Shorter than average teeth
Abnormally shaped teeth
Missing teeth
Bite and alignment concerns
Will my cosmetic dentistry results be permanent?
Every mouth is unique, which means specific procedures will be used to improve your smile. Each cosmetic dentistry procedure has a different lifespan, so it's impossible to determine how long your results will last without first creating your treatment plan. Unfortunately, most procedures don't offer permanent results; however, your smile can thrive for months to years with the right aftercare. You can protect your investment by committing to your oral hygiene at home and visiting your dentist at least twice a year for a teeth cleaning and dental checkup. It's best to skip anything that might harm your new smile, like using your teeth as tools or chewing on inedible objects.
How much does cosmetic dentistry cost?
There isn't one flat fee for cosmetic dentistry services because everyone has different needs and goals. We don't want you to pay for anything you don't need. After creating a treatment plan, a member of our team will review your estimate and payment options. You'll know exactly what you'll have to pay before committing to any procedure. We will help you find the solutions you need to enhance your smile without draining your bank account, like third-party financing with CareCredit.
Can I use my dental insurance for cosmetic dentistry?
It's rare for dental insurance to pay for cosmetic treatments because the procedures are elective; however, there are some exceptions. Many cosmetic dentistry procedures also provide restorative benefits, like all-ceramic crowns and dental bonding. If Dr. Moulton deems a treatment necessary for your oral health, such as fixing a chipped tooth, you may be able to use your coverage to offset the cost. We will work on your behalf with your dental insurance to file any applicable claim forms to maximize your annual benefits. Although every policy differs, your insurance can pay up to 80% of the cost after reaching your deductible.