Frequently Asked Dental Questions – Hoover, AL
Helping Our Patients Learn More About Dentistry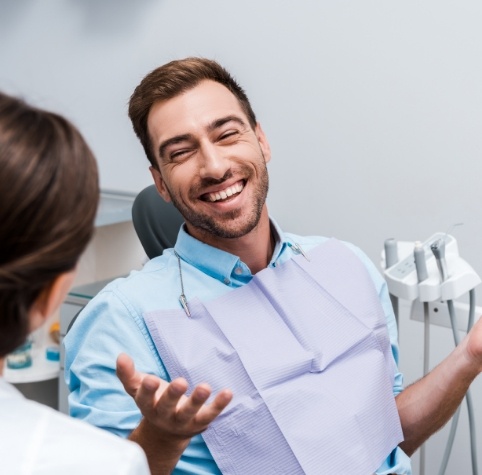 Do you have questions about a specific dental treatment? Not sure if Moulton Dentistry of Hoover has the services you need? We get many questions from our patients, which is why we have dedicated a frequently asked questions section to our website. If your question isn't mentioned, we encourage you to give our dental office a call directly!
Do you see families at your dental office?
Absolutely! We see patients of all ages and work hard to provide treatments that meet the dental needs of all your family members. This includes children, who require a special amount of time and dedication to monitor their oral development. We'll do everything we can to get everyone seen for their routine dental checkups and teeth cleanings.
Can I still visit if I don't have dental insurance?
While we are in-network with multiple insurance providers, we understand that not everyone has dental insurance to rely on. If you're in need of more affordable solutions, CareCredit makes it possible to pay for treatments in monthly installments with low interest rates. Additionally, our in-house dental membership plan offers a flat rate for guaranteed services. Keep in mind that this plan is not dental insurance, nor can it be combined with a dental insurance plan.
Do you replace teeth?
We have multiple solutions for replacing missing teeth. One of the most common treatments we perform is dental bridge placement, including traditional and implant-supported varieties. We work with dental implant specialists in the Hoover area to perform the surgical portion of treatment, then ask you to come back to our dental office to have the restoration placed. We use materials that are not only long-lasting but designed to blend in with the rest of your smile naturally.
Can you treat my gum disease?
Moulton Dentistry of Hoover offers comprehensive scaling and root planing treatments to stop the spread of infection in gum tissue. Unlike other dental offices that rely solely on metal dental instruments, we make use of a soft tissue laser to perform the treatment. Because this advanced device offers better precision, we can more effectively retain healthy existing tissue. It also works to reduce the amount of time needed for healing after your treatment.
How often should I visit for routine dental checkups?
Dr. Moulton recommends all patients complete their routine dental checkups and teeth cleanings once every six months. Remember, these appointments are about more than simply confirming the status of your oral health and performing detailed cleanings. They also give you and your family a chance to address any concerns you have about your oral health and catch early signs of developing dental disease before they cause severe problems later. Furthermore, patients with gum disease may need to visit more often, typically every three to four months.
Do you use metal materials in your restorations?
Whether you want to have dental crowns placed to restore teeth or hide cosmetic imperfections, Dr. Moulton uses tooth-colored materials. These materials include Emax and Zirconia, both of which mimic tooth enamel incredibly well while still remaining durable for years to come. This ensures that you can eat the foods you enjoy without having to worry about them becoming easily damaged. If you have silver fillings you'd like to have replaced with composite resin-derived versions, we'd be happy to accommodate you!
Can you improve my smile's appearance?
We have many cosmetic dentistry treatments specifically designed to target and hide common aesthetic imperfections. These include tooth stains and permanent discolorations, chips, cracks, gaps and even minor rotations in teeth! During your initial visit, we'll make sure to go over your cosmetic concerns and help you determine which treatment(s) are right for you.