Teeth Whitening – Hoover, AL
Make Your Smile
Shine Brighter Than Ever!
It's not as difficult as you may think to have a beautiful smile. With simple, professional teeth whitening in Hoover, AL, we've helped many people achieve the smile they've always dreamed of having!
Through this quick, safe, and inexpensive treatment, you can lighten your upper and lower teeth with ease! Simply give our dental office a call and schedule an appointment and we can help you achieve a smile that you're proud to show off!
Why Choose Moulton Dentistry of Hoover for Teeth Whitening?
Convenient Take-Home Whitening Kits Available
One-on-One Care to Ensure Your Cosmetic Needs are Met
Efficient Team and Dentist Ensures Low Wait Times
How Does Whitening Work?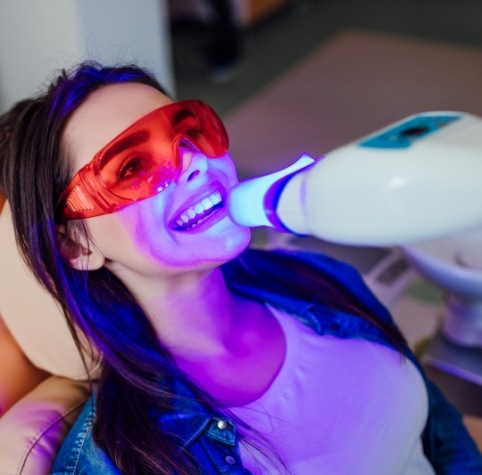 You'll be able to start whitening as soon as your custom bleach splints are ready, which only take a couple days to make! Our dental office provides you with not just the clear splints, but a special bleaching agent that's placed into the splints. Simply wear the splints for a 30 minutes to 1 hour every day and the bleach will bubble stains out of your tooth enamel. Thankfully, this does not affect your tooth structure or any existing restorations in the process. Once your enamel reaches the brightness you're looking for, you'll only need occasional treatments to keep your smile white. Following your treatment, we'd like to take "after" photos at your next appointment so you can see the difference more closely.
With teeth whitening, we can easily correct and remove tooth discolorations. These stains can appear as a result of aging, chemical damage to teeth, or external stains from certain foods. Dr. Moulton offers the safest method possible for making your smile look truly brilliant thanks to latest advancements in whitening technology. If your smile is extremely discolored, you may need to opt for crowns or veneers instead. However, since teeth whitening treatments are relatively cheap, it's always worth a try to see how it works for you.
How You Can Benefit from Teeth Whitening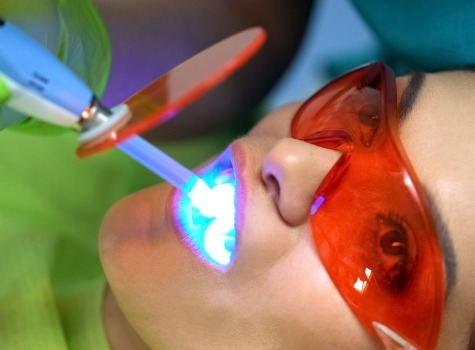 Helps people of all ages
Breaks down yellow, brown and spotted stains on teeth
Ideal, long-term solution for "dull" smiles
Restores the brightness of your smile
In order to create the whitening "stent" or mouthguard for your whitening treatment, an impression is taken of your current smile. This holds the bleach against teeth for extended periods of time, ideally about 30 minutes to 1 hour a day. By completing this process over the next week or two, your smile will look significantly whiter in color. In many cases, the improvements are quite striking. Bleaching technology allows our dental office to promise improvements for aging, stained or yellowed teeth, which should give you confidence in your treatment. Of course, if you have severely stained teeth, we'll discuss other options, such as crowns or veneers.
Should You Use Store-Bought Solutions?
You may have noticed products in your local grocery store or pharmacy in the past that tout whitening capabilities. Keep in mind that these products can actually harm your gums and teeth, which is why we recommend opting for products that are provided in-house.