Emergency Dentist — Hoover, AL
Don't Wait to Get Your Dental Emergency Handled Today!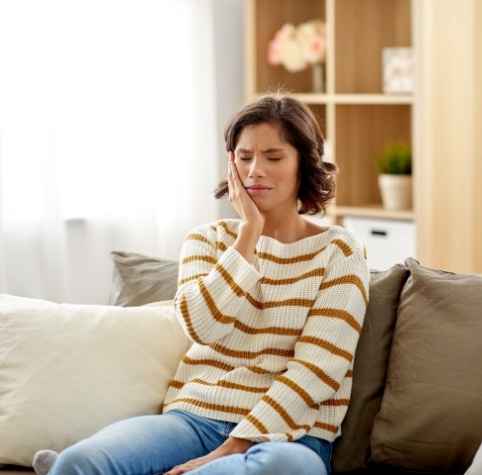 When a dental emergency strikes, the last thing you should do is put off seeing a dentist. Whether it's a bad toothache caused by an oral infection or a broken or knocked-out tooth caused by physical injury, we can get you out of discomfort. Without treatment, your tooth will only worsen in condition, so don't hesitate to give Dr. Moulton a call and schedule a same-day appointment for emergency dentistry in Hoover, AL! We'll do everything we can to save your tooth and protect your oral health.
Why Choose Moulton Dentistry of Hoover for Emergency Dentistry?
Special Offers Available on Emergency Dental Visits
Same-Day Appointments Available for Dental Emergencies
Relaxing Sedation Dentistry Options for Maximum Comfort
How We Treat Dental Emergencies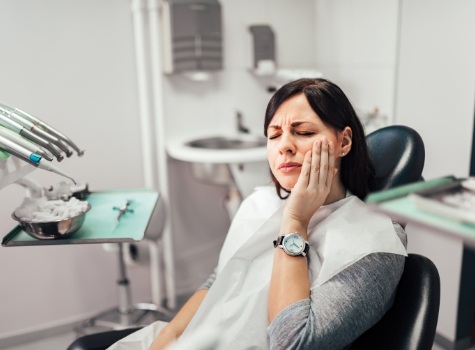 Step 1: Call us as soon as you can. When a dental emergency occurs, the first thing you should do is stay calm and give our dental office a call. This gives you the opportunity to schedule an appointment with our office (ideally for the same day) and get helpful advice from our dental team.
Step 2: See your Hoover emergency dentist. When you arrive, Dr. Moulton will see you right away for an exam. While evaluating the extent and source of your emergency, he'll also provide pain relief as necessary. Afterwards, he'll review his findings with you and fully explain your treatment options. Together, you'll create a custom treatment plan.
Step 3: Get the care you need, fast! Once a treatment plan has been made, our experienced team will leap into action. No matter what type of service you need, whether it's a root canal, dental crown, or something else entirely, your comfort and well-being will be our top priorities. If you're feeling particularly anxious or uncomfortable, we may recommend a calming sedation dentistry option.
The Most Common Dental Emergencies
There are a variety of situations that qualify as dental emergencies. Some require immediate attention, while others can wait until the next available appointment. To determine how quickly you need to be seen, don't hesitate to give us a call if you suspect you need urgent dental care. We'll help assess your situation and schedule your appointment accordingly. Prior to your arrival, there are ways you can improve your overall condition and ensure the best outcome for your issue. Below, you'll get a chance to learn exactly what steps to take next following a specific dental emergency.
Understanding the Cost of Dental Emergencies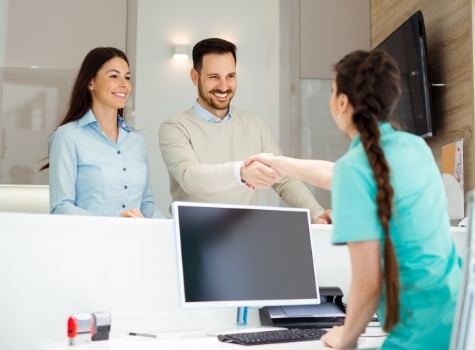 When treating dental emergencies, it's important to note that the more serious your emergency is, the more complex treatment may be to resolve it. For example, tooth pain could be a sign of decay, which only requires a thorough cleaning and possibly dental filling or crown placement. However, if the pain is caused by oral infection, root canal treatment will be needed, which costs more to complete. Either way, the last thing you should do is put off treatment, allowing it to get worse and increase your total costs. Rest assured – we'll be there every step of the way to help you navigate the financial aspects of your emergency dental care in Hoover.
Every Dental Emergency Is Different
Believe it or not, visiting your emergency dentist in Hoover is not as expensive as you might think. During your appointment, our team will evaluate your case and determine which treatments are necessary to get your smile back on the right track. Of course, it's impossible to provide an accurate cost estimate until you come to our office for an emergency visit. Some common solutions for dental emergencies typically include root canal treatment, tooth extractions, dental crowns, and TMJ treatment. Our team will thoroughly explain our findings and walk you through your recommended treatment plan to ensure you know what to expect.
Taking Care of Your Smile Can Save You Money
Dental emergencies aren't entirely avoidable, but there are many things you can do to prevent them from happening. Simple practices like visiting your dentist every six months and taking proper care of your smile can save you thousands of dollars over the years!
You can also save money by making a dental appointment as soon as you notice something wrong with your mouth. Addressing dental pain or a damaged tooth right away is incredibly important. Otherwise, the associated costs will only grow the longer you wait. Seeking prompt treatment can make the difference between needing root canal therapy or an extraction.
Does Dental Insurance Cover Dental Emergencies?
You'll be happy to know that most dental insurance plans offer some form of coverage for emergency situations. Usually, at least one annual exam is fully covered, and the majority of services associated with hurting teeth receive partial coverage. Of course, the exact percentage varies based on your specific policy. Make sure you contact your insurance provider to confirm the details of your coverage before committing to anything. If needed, our team is more than happy to help with this step!
Other Options for Making Dental Emergencies Affordable
What if you don't have dental insurance? Don't worry – we offer additional financing options to help make your care as affordable as possible. Some of those include:
In-Office Dental Membership: For a flat fee, you can get the dental care you need and enjoy sizeable discounts on many other services. You essentially get the benefits of traditional insurance without the red tape!
CareCredit Financing: This option allows you to split up the total cost of your care into smaller monthly installments. Best of all, these payment options come with little-to-no interest attached to help you save even more money.
Special Offers: Currently, you can take advantage of our $39 limited emergency exam and X-ray deal. We can confirm what's happening inside your mouth without breaking the bank!
Keys to Preventing Dental Emergencies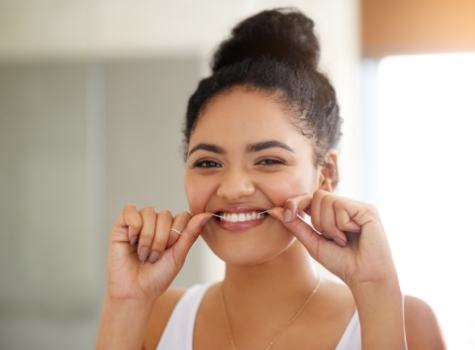 Most dental emergencies can be avoided when you implement good oral hygiene habits, like making routine visits to our dental office for teeth cleanings and dental checkups. Steps like this can make a big difference in avoiding the majority of dental conditions, including tooth decay, gum disease, and oral infections. For more best practices we encourage our patients to implement to avoid a sudden dental injury, read on!
Visit Your Dentist Regularly
As mentioned above, routine visits to our office for a dental checkup and teeth cleaning are crucial. During the oral exam, our Hoover dentist will carefully check your teeth, gums, and any existing restorations for damage, which could've otherwise resulted in a painful dental emergency. The cleaning also serves an important purpose because it allows our team to gently remove stubborn plaque, reducing your chances of developing tooth decay, gum disease, and other oral health concerns.
Maintain Good Oral Hygiene at Home
Although our team will do everything we can to help prevent dental damage, keeping your teeth and gums healthy relies heavily on a solid oral hygiene routine. So, make sure to implement best practices like brushing twice a day, rinsing with mouthwash regularly, and flossing daily. Bonus tip: use the right tools, like a soft-bristled toothbrush and toothpaste with fluoride!
Stick to a Nutritious Diet
Naturally, what you eat impacts your oral health. However, what you eat also has the potential to result in a dental emergency. After all, it takes just one hard bite into a popcorn kernel for your afternoon at the movies to turn into an urgent trip to your dentist's office. For this reason, it's important to exercise caution with hard, sticky, and chewy foods. As much as possible, add nutrient-dense foods to your plate, like fruits and vegetables.
Wear a Mouthguard
Did you know that roughly five million teeth are knocked out each year, and a good number are from sports-related incidents? So, if you participate in contact sports, it's crucial that you have a custom-made sportsguard for optimal protection. Fortunately, our Hoover emergency dentist can provide you with one that's comfortable and effective, making it easy to wear during practices and games.
Use Tools to Open Packages, Not Your Teeth
In short, you should never use your teeth to open packages, bottles or perform any task that is better suited for a tool. Although your teeth are sharp and strong, they aren't meant to withstand that kind of pressure, which can cause them to easily chip or fracture.
Dental Emergency FAQs
When a dental emergency occurs, a thousand questions come to mind. When should you go to the dentist's office vs. the ER? How can you treat symptoms until your appointment? At Moulton Dentistry of Hoover, we do our best to take the stress out of sudden dental injuries by offering same-day appointments and a comprehensive array of services at one convenient location. If you are worried about what to do in an emergency situation, we've listed a few frequently asked questions below.
Should I Go to the ER for My Dental Emergency?
From a knocked-out tooth to a fractured jaw, there are a multitude of injuries that can occur at a moment's notice. However, potentially life-threatening issues, like a fractured jaw, difficulty swallowing or breathing, or a deep facial cut necessitate a visit to your nearest emergency room. Once you have received medical attention, you can contact our office to schedule a same-day appointment with our emergency dentist in Hoover. From there, Dr. Moulton will rebuild your smile and prevent your teeth and gums from sustaining additional damage.
How Do I Bring Down Facial Swelling?
If you begin to notice swelling around your cheeks or jaw due to dental trauma, you can apply a cold compress or covered ice pack to the affected area for 10 minutes at a time. Not only will this reduce the puffiness, but it will also numb the area slightly to relieve your discomfort. However, if the soreness persists, you can take an over-the-counter medication, like Ibuprofen, to help manage the pain until your appointment.
What Items Should I Include in My Emergency Dental Kit?
Dental emergencies seem to always occur at the most inconvenient times, so preparation is paramount. To prevent an already anxiety-inducing experience from becoming downright chaotic, include the below items in your emergency dental kit:
Latex-free gloves
Ibuprofen
Gauze pads
A container large enough to fit a tooth
Saline rinse solution
What If I'm Afraid of the Dentist and Need Treatment?
If the thought of visiting the dentist sends a bead of sweat down your spine, you are not alone. In fact, thousands of Americans experience mild to severe dental phobia. That's why we offer sedation options for anxious patients. With these reliable, safe, and effective calming services, fear won't stop you from getting the dental care you need!