Veneers – Hoover, AL
Hide Multiple Smile Imperfections with Just One Treatment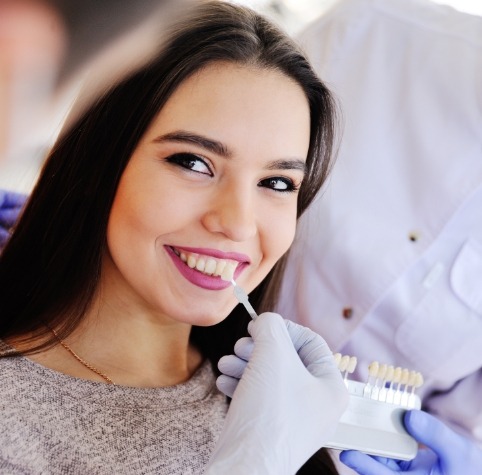 Having chipped, stained, or misshapen teeth can make it hard to find a reason to smile. In fact, being afraid to confidently grin can hinder your day-to-day life and even your chances of success in your professional or romantic life. Luckily, there's an easy way to remedy all of the aesthetic flaws in your teeth at the same time: dental veneers in Hoover, AL. Over the course of his 30+ years of experience in the dental field, Dr. Marc Moulton has used veneers to help countless patients hide multiple smile imperfections with just one treatment. Whether you just have a couple of issues you want to fix or you wish to give your whole smile a makeover, veneers can help. Contact our Moulton Dentistry of Hoover team today to find out more!
Why Choose Moulton Dentistry of Hoover for Veneers?
Dental Office with Short Wait Times
Experienced Cosmetic Dentist Who Listens to Your Needs
Low-Interest Dental Financing Offered
What Are Dental Veneers?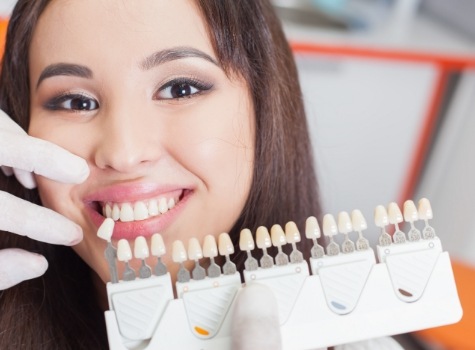 Dental veneers are thin porcelain shells that are designed to adhere directly to the front surfaces of your teeth. Because they cover the entire visible section of a tooth, they can serve several purposes at the same time. For example, veneers can conceal stubborn stains, hide chips or cracks, close small gaps between teeth, build up worn-down or misshapen teeth, and even make slightly rotated or crooked teeth look straighter. Whatever the case may be, your cosmetic dentist in Hoover can create your dream smile with veneers – and have it look, feel, and function like natural!
The Process of Getting Veneers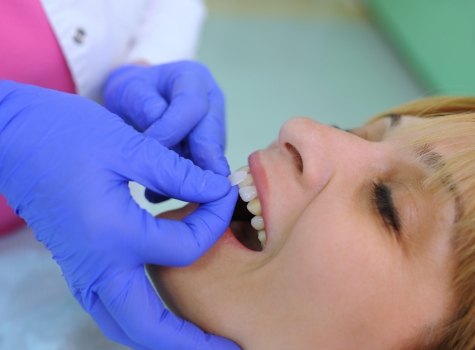 During your consultation, Dr. Moulton will examine your smile very closely and listen to your concerns about how you'd like your new smile to look. After determining that veneers are the ideal cosmetic dentistry treatment for you, he'll begin gently modifying your tooth enamel so veneers can properly adhere to them. You'll be given local anesthetics to make you feel as comfortable as possible. Next, he'll capture impressions of your teeth and send them to a dental lab, where your permanent veneers are created. You'll be given a set of temporary veneers to help you get used to your new smile and protect your teeth in the interim. After about two weeks, you'll come back to have your permanent veneers fitted.
The Benefits of Veneers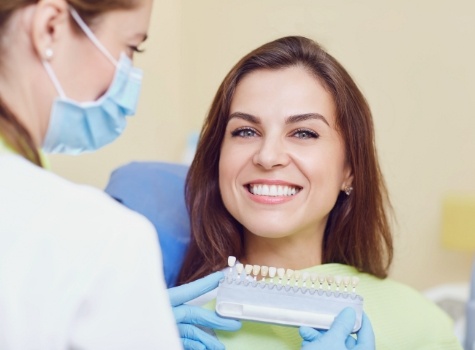 Over the past few decades, veneers have been growing in popularity exponentially because of the multiple benefits they provide. These benefits include:
Every veneer is 100% personalized to look and feel indistinguishable from a natural part of your smile.
Veneers are versatile enough to correct numerous cosmetic dental flaws in one fell swoop.
Dental porcelain is more resistant to staining than tooth enamel is, so you shouldn't have to worry about coffee, tea, or wine discoloring your pearly whites when you have veneers.
The veneers process is a fairly short one; all it takes is two appointments over the course of a few short weeks to fully transform your smile.
Veneers are incredibly durable. With the right care, they can last for 10 to 15 years – maybe even longer.
Understanding the Cost of Veneers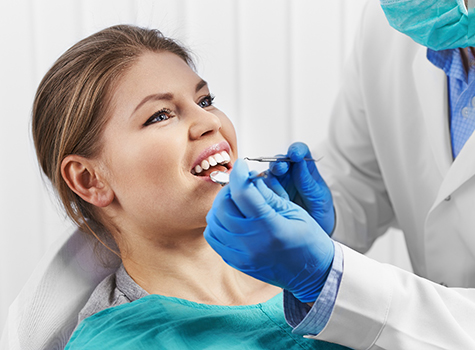 As you consider veneers to hide your cosmetic imperfections, it's important that you identify whether it is the appropriate form of treatment for what you are looking to accomplish. The cost of veneers in Birmingham can be much higher than other forms of treatment, but it is also capable of fully transforming your appearance. Take a few moments to learn more about the expected cost associated with this type of care as well as other available options you might consider.
Cost vs. Cosmetic Dentistry: What's Right for Me?
There are several different cosmetic dental treatments at Moulton Dentistry of Hoover you can choose from. When meeting with your dentist to discuss your options, it can be helpful to understand the cost associated with each method of treatment:
Veneers: As the only cosmetic solution designed to change the size, shape, and color of teeth, veneers are costly but also transformative, making them an excellent choice when looking to enhance your appearance.
Cosmetic Dental Bonding: Considered a less invasive option than veneers, cosmetic dental bonding can address minor flaws but must be replaced every few years to maintain results.
Metal-Free Dental Restorations: Capable of improving the aesthetics of your smile as well as delivering optimal protection, metal-free dental restorations can improve the look of a smile but can be costlier depending on how many teeth must be treated.
Teeth Whitening: No matter how you choose to whiten your teeth, eliminating stains and discoloration can be beneficial; however, this type of treatment will only address the color, not the size and shape of teeth.
How to Make Veneers Affordable
Choosing veneers or any other type of cosmetic dental treatment will require that you seek alternative options when paying. Dental insurance is unlikely to offer any type of coverage for this type of care. The good news is that our team at Moulton Dentistry of Hoover is pleased to offer two additional options for payment:
CareCredit – As a third-party financier that offers low-interest and no-interest financing, you can enroll in a plan that promises no surprise fees and makes it easy to pay in monthly installments so that you stay within your budget.
In-Office Dental Membership – By paying one flat monthly or annual fee, you gain access to preventive services and discounts on all other available treatment options without the red tape of traditional dental insurance.
Veneers FAQs
Are you eager to transform your smile? Veneers are an excellent option, but they are quite an investment, so it pays to be well-informed. We're here to help! Here are the answers to some of the most common questions we receive about veneers in Hoover. If you don't see the information that you're looking for below, don't worry. Give us a call, and we'd be happy to explain more about the procedure and get you started with an initial consultation.
Are Veneers Permanent?
Veneers are not technically permanent because they will eventually need to be replaced. However, they are considered to be irreversible. To ensure that the veneers fit properly on the teeth, small amounts of enamel will need to be removed. Removed enamel does not grow back, so teeth that have been prepared in this way will always need to be covered with either veneers or dental crowns.
Will I Still Be Able to Drink Coffee with Veneers?
Veneers that are made from porcelain are stain resistant. This is because porcelain is a nonporous material, so the particles in dark-colored foods and beverages have a harder time slipping beneath the surface. Ultimately, you should be able to drink your morning cup or two of coffee without worrying too much about staining your veneers. Just keep in mind that veneers are not stain-proof. Excessive consumption of coffee and other dark-colored beverages can still have a negative impact over time. Moderation is key!
Do Veneers Give You a Lisp?
Some patients have trouble pronouncing certain words when they first get veneers, therefore resulting in a temporary lisp. This is partially due to muscle memory, as the tongue is not yet used to accounting for the presence of veneers while you speak. The tongue will eventually adjust on its own but practicing the pronunciation of certain sounds can help to speed this along.
How Many Veneers Will I Need?
The goal of veneers is for all of your visible teeth to match, so you will receive the appropriate number to meet this goal. Some patients opt for one veneer to cover a single pesky tooth while others get anywhere from 6 to 12 veneers for a more complete smile makeover. During your initial consultation with us, we will discuss what the right number of veneers is for you in order to meet the goals you have for your smile.