Dentures – Hoover, AL
Flawlessly Restore All the Parts of Your Smile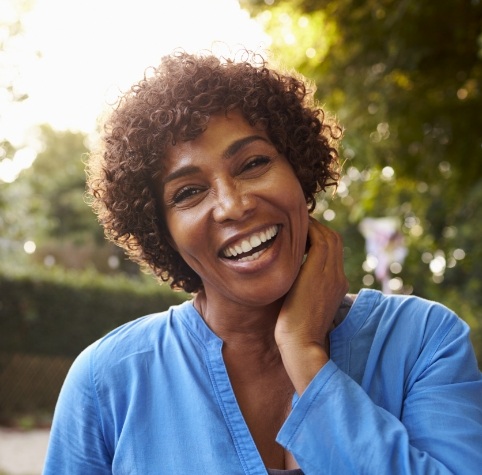 Just because you're missing some or all your teeth doesn't mean you don't deserve to smile beautifully. Thanks to dentures in Hoover, there is a perfect solution to your tooth loss. These natural-looking restorations can replace anywhere from just a few teeth to an entire arch and restore your smile and biting power back to their former glory. Contact our trusted team at Moulton Dentistry of Hoover for a consultation to see if dentures are right for you.
Why Choose Moulton Dentistry of Hoover for Dentures?
Extensive One-on-One Time from Dentist Dedicated to Patients
Experienced and Accommodating Dentist and Team
Natural-Looking Dental Materials Used
What Are Dentures?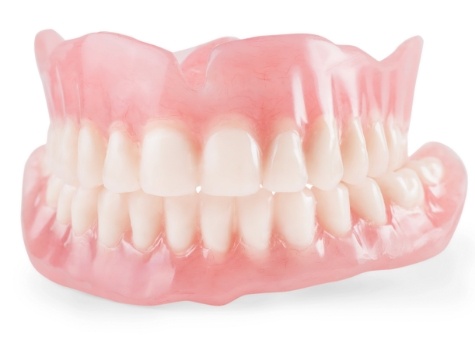 When you think of the word "dentures," full dentures are probably what come to mind. These artificial teeth are placed in an acrylic restoration that looks like gum tissue and is designed to fit snugly over the gums. It replaces an entire arch of missing teeth at once, allowing you to enjoy speaking, eating, and smiling to the fullest once again.
Partial dentures in Hoover are a little different. They are used when you still have some of your natural teeth. They are composed of artificial teeth that are connected by a metal framework that goes behind the remaining natural teeth. More often than not, a partial denture is completely removable and can even look more natural than bridgework.
Who Is a Good Candidate for Dentures?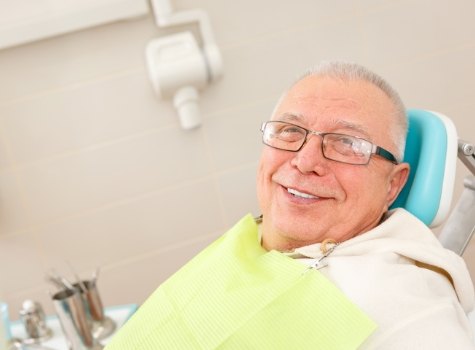 If you're missing all of your teeth, then you would be an excellent candidate for full dentures in Hoover. Whether you lost your teeth due to periodontal disease, malnutrition, or some other unfortunate circumstance, full dentures are here to help.
If you're only missing most or a few of your teeth, then partial dentures would be a better fit for you. They can help give you the appearance and function of a complete smile. However, if you're only missing one or two teeth, you may want to consider another option, such as a bridge or dental implant.
How to Take Care of Dentures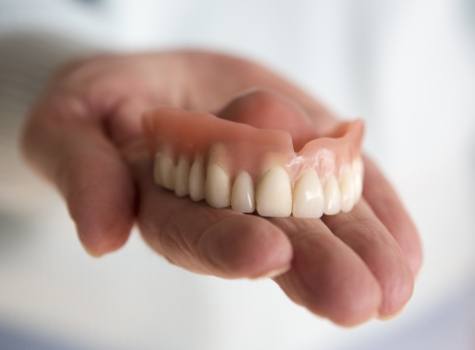 When you think about cleaning dentures, you most likely picture them resting in a glass of water. This is a great way to keep them clean at night. Removing your dentures while you sleep also gives your gums a chance to rest after supporting the dentures all day. You can also soak them in denture cleanser, which you can find at pretty much any drugstore.
It's also a good idea to remove your dentures after eating and run some lukewarm water over them to remove bits of food that could cause infection. Just make sure the water is not hot, as that could change the shape of the plastic. Also, brush your dentures every day with a soft-bristled toothbrush to get rid of debris. However, don't use toothpaste, as that could be abrasive.
What Are the Advantages of Implant Dentures?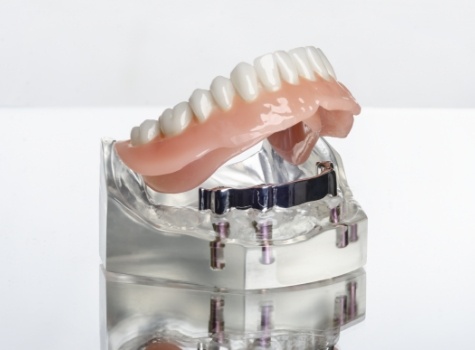 Implant dentures are full dentures that are held in place with dental implants. Because they are firmly rooted in your jaw, your dentures will not slip and slide around when trying to talk or eat, like traditional dentures might. The dental implants will also keep your jawbone from deteriorating, since they replace not just the visible crowns, but the roots of your teeth as well. Your face will then stay looking young and vibrant, and you will feel confident in your ability to talk, eat, and smile with ease.
How Dentures Are Made
If you've chosen to get dentures, perhaps you'd like to learn how they're made. After all, details on the crafting process let you see what these prosthetics can do. To that end, we at Moulton Dentistry of Hoover are here to help. Below is a summary of what goes into dentures and the methods used to create them. By reading it over, you can better understand your future restorations. So, whether you need a partial, full, or implant denture, here's how it all comes together.
What Are Dentures Made Of?
Dentures are comprised of two primary parts: a base and a set of artificial teeth. Each has features necessary for treatment to succeed. As proof, consider the following descriptions:
Denture Base – As a foundation, the base supports a denture's artificial teeth. Labs often make one from various materials, ranging from acrylic and porcelain to even metal or nylon. The employed substances differ depending on the type of denture you get.
Artificial Teeth – Per their name, artificial teeth are a denture's tooth-replacing portions. They're usually made of resin or porcelain so that they look (and feel) lifelike. That said, full dentures tend to include porcelain ones, as these can be abrasive on adjacent teeth.
The Denture Creation Process
Because dentures are custom-made for a patient's mouth, creating them involves a multi-step process. It adheres to the methods below:
Step 1: Your dentist will take a dental impression of your upper and lower gums. The resulting model will be sent to a lab to help create the dentures.
Step 2: After being crafted, the lab will return the wax dentures to the dentist for a fitting. Should the patient and dentist approve, the restorations will be sent to the lab for completion.
Step 3: A technician will boil the dentures to remove their wax portions. They'll then place the appliance in a flask to pour plaster. From there, the flask is placed in hot water to melt the dentures.
Step 4: The lab worker will make holes in the artificial teeth so new material can attach to them. A liquid separator is also added to the plaster layer to prevent the acrylic from sticking. The same acrylic is then injected into the flask to replace the wax.
Step 5: The worker will remove the plaster to reveal the prosthetics. Later, they'll place the dentures in an ultrasonic bath to remove leftover plaster.
Step 6: After cutting away excess acrylic, the technical will polish the restorations
Step 7: The patient will return to the office for fitting and final adjustments.
Adjusting to Your New Dentures
When you first get dentures, it's normal to feel a certain amount of discomfort. This effect may result in mild soreness and difficulty with speaking and eating. However, you can rest assured that your mouth will adjust over time. In fact, the restorations will feel similar to natural teeth sooner than you'd think.
Still, there are ways you could speed up the adjustment. Some excellent methods include eating soft foods, exercising your face, and experimenting with adhesives. You should also note whether your aches or discomforts persist. In that case, contacting your dentist is best – the prosthetics may need further tuning.
Understanding the Cost of Dentures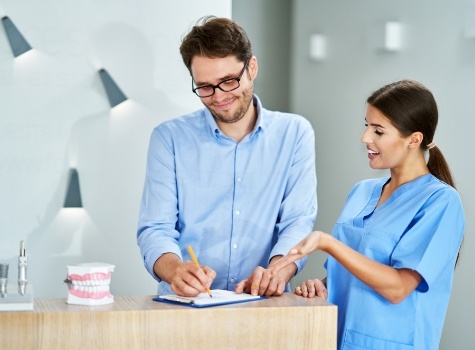 After learning about dentures, you're probably more excited than ever to start rebuilding your smile. However, you may be wondering about the cost of dentures in Hoover before you decide to move forward with the process. During your consultation, our team at Moulton Dentistry of Hoover will conduct an oral examination and explain which factors will affect the final price. Following the appointment, you'll have a better understanding of what you can expect to pay for your treatment.
Factors That Affect the Cost of Dentures
Multiple considerations can influence the price of dentures in Hoover, including:
Any work needed beforehand like tooth extractions or gum disease treatment
The number of teeth you're missing
The type of acrylic used for the base (part that is dyed to match color of gum tissue)
The materials your denture will be made of (usually porcelain or acrylic)
Is cost a priority? If so, you may be tempted to opt for cheaper dentures. Even though the upfront cost is certainly lower, they tend to break easily and require replacement much sooner than you'd expect. That's why quality should always be of utmost importance, regardless of the cost.
Are Implant Dentures More Expensive?
Yes, implant dentures are generally more expensive than traditional ones. However, there's a good explanation for that. They require oral surgery and the placement of multiple dental implants, making them more reliable for everyday use since they do not shift out of place. Many patients discover this method of tooth replacement is well worth the investment because of several tremendous benefits.
Not only do dental implants stimulate the jawbone, but they can last decades or even a lifetime with proper care and maintenance with help from your denture dentist in Hoover. That means you won't have to worry about replacing your dentures nearly as often!
Does Dental Insurance Cover Dentures?
Dentures are considered a major procedure which is why most dental insurance plans will cover approximately 50 percent of their cost. Certainly, every policy is unique, meaning the amount of coverage provided will vary from patient to patient. If you have any questions about your plan, contact your insurance provider or ask our dental team for assistance. We will gladly review the details of your policy and do everything possible to maximize your benefits and reduce out-of-pocket expenses.
Other Options for Making Dentures Affordable
We understand not everyone has dental insurance, which is why we offer other ways to make your dental bills much easier to manage. With CareCredit financing, you can split up the total cost of your denture treatment into smaller, budget-friendly monthly installments. Options even come with little-to-no interest!
We also offer in-office dental memberships. Among many other benefits, you receive 20 percent off the price of procedures. Learn more when you give us a call!
Ready to begin down the path to a beautiful, complete smile? Contact us today to schedule a denture consultation so we can answer any questions you might have.