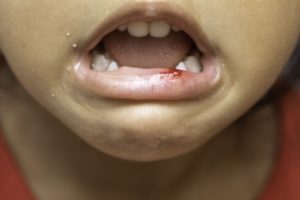 As a parent, it can be difficult to react calmly and effectively to keep your child's mouth from sustaining additional damage during a shocking dental emergency. For your child, the surprising turn of events that caused their pain can have a lasting impact, even as you reach their children's dentist in Hoover. To help make their visit smooth, calm their nerves, and get them the fast care they need, you can read below for a list of suggested steps to take in the face of a children's dental emergency.
Keeping Your Child Calm
In the face of an unexpected dental emergency, your child may begin breathing quickly or having a panic attack due to the shock of the event. In these cases, calming them down can help you easily administer care while also keeping them from hyperventilating. Here are some tips to help level your child's emotional response to the event:
Make sure everyone's okay and don't panic. If your child sees you flustered and visibly worried, it could cause them to become even more panicked.
If you don't know what to do and your child is having difficulty breathing or swallowing, contact 911 for an ambulance.
Talk to your child about positive things and keep them from catastrophizing the event and escalating their emotional response.
Let your child know that you're prepared and know how to handle the situation, so they don't have anything to fret about.
When To Consider Taking Them To The ER
Certain dental emergencies may require a visit to the local ER first, then a follow-up appointment with your child's dentist in Hoover later. These include any situations that impact their ability to breathe or swallow as well as:
Severe facial or gum swelling.
A high fever.
Uncontrollable oral bleeding.
A sudden, painful injury to their jaw, face, or head.
A broken jawbone.
Use The RICE Method
Have you ever heard of the RICE method? It's an acronym to help you respond effectively in the face of an emergency. It stands for Rest, Ice, Compression, and Elevation. If your emergency dentist isn't open or you're worried about your little one's comfort, following these steps can help reduce swelling and promote healing:
Rest. Allowing them to rest in a safe area can help calm them down and ease any soreness or pain from the accident.
Ice. Applying ice to any swollen areas of their face can bring it down and relieve their pain.
Compression. If your child has a physical injury in addition to their dental one, wrap their injured or sore area with an elastic bandage to decrease swelling.
Elevation. If your child has fallen off of a bike or twisted an ankle during their accident, elevate the sore or injured area of their body on pillows to minimize swelling.
Once you've assessed your child's emergency situation and provided them with any immediate care they require, contact their dentist in Hoover to make sure they receive the necessary professional treatment they require. With these three tips, you can ensure their health and safety, even in serious accidental situations that take you by surprise.
About the Author
Dr. Marc Moulton has over 30 years of experience under his belt and has established countless long-lasting relationships with his patients and their families. He understands that in stressful situations, fast, pain-relieving care is crucial, especially if your child is involved. That's why he offers same-day appointments for his patients in need. To schedule your child's visit or get over-the-phone first-aid guidance, visit Moulton Dentistry's website or call 205-988-3360.