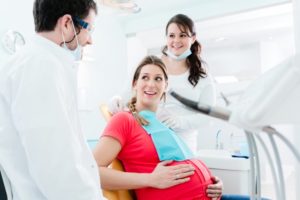 It's been several weeks since you found out that you're expecting. After you saw the results on that little stick, your body has started changing in many ways, but you'll soon begin to feel some of the more fun parts of pregnancy. During this time, you also need to take excellent care of yourself. After all, your body is providing the baby's first home! Not only can self-care benefit the little one growing inside you, but it can also ensure that you are as healthy as possible when the real adventure begins.
Unfortunately, one part of self-care that many expecting moms neglect or simply don't think about is oral health while pregnant. Did you know that pregnancy can cause serious problems with your smile? Here are some of the risks you may face over the next few months and how you can avoid them.
Pregnancy Gingivitis
Just as the rest of your body is undergoing hormonal changes, your mouth can be affected by them as well. Bacteria inside your mouth can quickly get out of control. As a result, you may experience swollen, red gums that bleed when you brush, which are the first symptoms of gum disease, or gingivitis. At this stage, the gum infection can be easily treated and controlled, but if you don't address the problem, it can progress and cause more damage. As soon as you know you're pregnant, you should tell your dentist so that they can keep a close eye on your gums.
Cavities
Pregnancy also increases your risk of developing tooth decay. Those bouts of morning sickness don't just make it difficult to keep food down; they introduce stomach acids to your mouth, corroding your tooth enamel. In addition, while you should be eating more calories than usual, if you are consuming more carbohydrates and sugar, the acidity in your mouth will go up, making cavities more likely to occur.
Pregnancy Tumors
Some pregnant women develop little pockets in the gum tissue, particularly in between teeth. They may be connected to plaque buildup and slightly bleed. These overgrowths of the gums are often called "pregnancy tumors," but rest assured they are not cancerous. Typically, they disappear once the baby is born; however, you can talk to your dentist about them if you would like to address them sooner.
How to Protect Your Smile During Pregnancy
While you're preparing for your bundle of joy by putting up the crib and packing your hospital bag, you need to make sure that taking care of your oral health is on your to-do list. Every day, you must brush your teeth twice for two minutes and floss before you go to bed. These little habits play a huge role in keeping gingivitis and tooth decay from ravaging your smile. In addition to this daily routine, you also should:
Drink plenty of water, even if through little sips throughout the day.
Limit your snacking on sugar or carbs.
Ask your dentist whether you should add a fluoride mouthwash to your routine.
Continue to visit your family dentist in Hoover for checkups and cleanings.
Ultimately, pregnancy brings enough change and challenges. By taking these careful steps, you can reduce the negative impact this phase of life can have on your smile and simply enjoy welcoming your baby into the world.
About the Author
As a father of two, Dr. Marc Moulton is familiar with challenges with pregnancy and oral health. He has been practicing dentistry for more than 30 years. During that time, he has only continued to progress as he regularly undergoes advanced training with prestigious organizations like the Spear Institute. In his practice, Moulton Dentistry, he is happy to serve entire families and help expecting mothers stay healthy before, during, and after pregnancy. If you would like to schedule an appointment with Dr. Moulton, you can contact the practice through the website or call 205-988-3360.