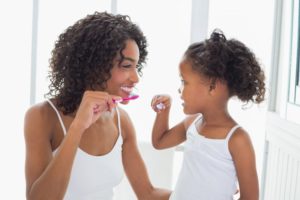 Every parent naturally wants what's best for their child, but unfortunately, parenting doesn't come with an instruction manual. As a result, you may have a few questions about caring for your little one's budding smile. When should you start brushing your child's teeth? When can they start brushing on their own? Read on as a family dentist provides a few children's oral health tips to ensure your son or daughter grows up with a healthy smile.
When to Start Brushing Your Child's Teeth
Many people don't know this, but you can actually establish an oral hygiene routine with your baby as soon as they come home from the hospital. After every feeding, it's a good idea to use a damp, clean washcloth or gauze pad to gently wipe your baby's gums. This will minimize the risk of lingering sugar particles causing an infection.
As soon as your little one's first tooth erupts, you should begin cleaning it with a small, soft-bristled toothbrush twice per day. To make the experience easier for your child, you can soften the bristles even more by soaking the brush in warm water for a few minutes beforehand.
How to Brush Your Child's Teeth
According to the American Dental Association (ADA), you should use a dab of toothpaste the size of a grain of rice until a child is four years old. After that, you can use a pea-sized amount. Make sure to select a toothpaste that contains fluoride. This naturally occurring mineral strengthens tooth enamel, fortifying the teeth against cavities.
Hold the toothbrush at a 45-degree angle to the gumline. Gently move it back and forth across the chewing surfaces of each tooth. For the front teeth, hold the brush vertically to clean the front and back surfaces. Don't forget to brush your child's tongue from back to front to remove any bacteria that may be accumulated there.
When Can Children Brush Their Teeth on Their Own?
You should continue brushing your little one's teeth until you're fully confident that they can do it on their own. Generally, kids are ready around the age of six or seven, but every child is different. During this time, you should still monitor them to ensure they're using the right amount of toothpaste and spitting it out when they're done instead of swallowing.
When it comes to children's oral health, brushing their teeth regularly is crucial. By implementing a good oral hygiene routine early on, you'll be setting them up for a lifetime of healthy smiles!
About the Author
As a father himself, Dr. Marc W. Moulton understands the importance of children's oral health as much as anyone. Throughout his 30+ years of experience as a family dentist in Hoover, AL, he has helped patients of all ages achieve and maintain healthy smiles. He has also undergone advanced training through prestigious organizations like the Spear Institute. To learn more about keeping your little one's developing smile healthy, you can contact Moulton Dentistry by calling 205-988-3360.