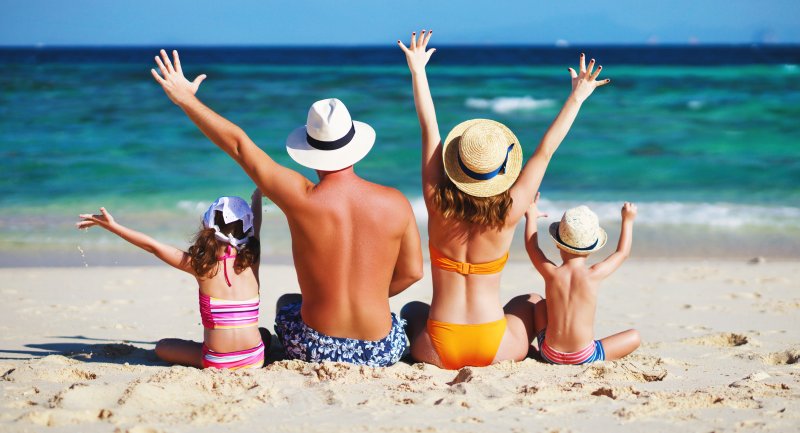 School is out, the weather is warmer, and the days are longer. Summer has officially arrived! You and your family may be gathering ideas for how to spend the sunny season. While it's exciting to think about all the fun activities to do during vacation, there is one thing that could derail your plans—your oral health. Don't let dental complications interfere with your days off! Read along for six summer tips to avoid a trip to your emergency dentist.
Maintain a Proper Dental Care Routine
Following a good oral hygiene routine is essential to keep your smile healthy and bright during the warmer months. Now that your little ones are out of school, you may need to remind everyone that they still need to brush twice a day and floss daily, even on a hectic schedule.
Drink Plenty of Water
Fruit juice, sports drinks, soda, lemonade, and tea may all be a delicious way to cool down during a trip to your local pool, but they can do serious harm to your teeth. Sugary and acidic drinks can damage your enamel and cause tooth decay. Instead, encourage everyone to drink plenty of water! Not only is it hydrating, but it also helps wash away harmful bacteria from your mouth.
Encourage Healthy Snacking
A more relaxed schedule leaves more time for snacking. Eating too many sugary foods, like candies, cookies, and popsicles can lead to dental decay. Minimize your risk and keep your fridge stocked with apples, berries, carrots, celery, cheese, and yogurt to promote healthy snacking.
Practice Pool Safety
Did you know that swimming pool accidents are one of the main reasons for dental emergencies during summer? Running on slippery pool decks or diving into shallow water can lead to mouth injuries. Brush up on pool safety before you go for a swim and encourage your children to follow safe practices. Remind them to always walk and to never jump in the water feet first.
Wear a Mouthguard
Many of the activities we enjoy during the warmer months put us at risk of injuries to our mouth, teeth, and gums. Sports like basketball, hiking, swimming, and biking can result in a damaged smile if you don't take proper precautions. Common injuries include broken or chipped teeth, fractured roots, and cut lips. Make sure you and your loved ones use a mouthguard to prevent these accidents.
Pack a Dental Emergency Kit
You could follow every safety measure in the book, and an accident can still occur—that's life! Be prepared to handle any unexpected complications and pack a dental emergency kit that includes:
Your dentist's office and emergency phone number
Gauze
A handkerchief
A small container with a lid
Saline solution
Do not let your oral health suffer at the expense of a fun vacation! You want to spend your days outside, soaking up the warm weather—not in a waiting room. By following these tips, you can get the most out of your time off while keeping your smile safe, healthy, and away from the ER.
About the Practice
At Moulton Dentistry, you can expect to receive high-quality, personalized, comprehensive dental care. Our team takes the time to get to know each patient to ensure we're meeting everyone's needs effectively. If a dental emergency occurs while on vacation, do not hesitate to give us a call. We can get you out of discomfort as soon as possible and do everything we can to save your smile. Schedule an emergency visit via our website or call (205) 988-3360.