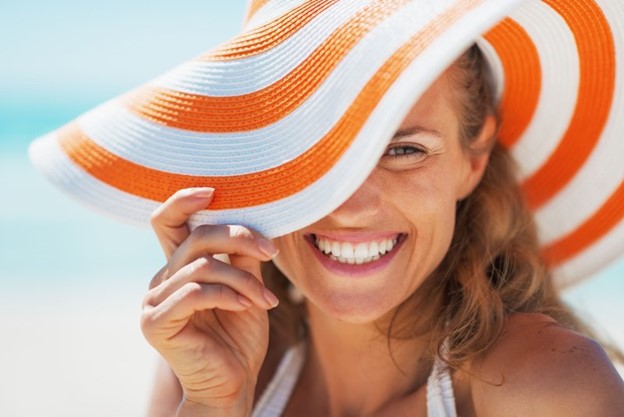 What's on your summer to-do list? Are you planning to hit the beach to soak up some rays? Or maybe you prefer fun-filled days spent at the pool? But did you know that being out in the summertime sun, no matter what you're doing, is beneficial for your smile? Keep reading to learn more from your dentist about how spending time in the sun and getting enough vitamin D can greatly benefit your oral health and keep you smiling all summer long.
The Link Between the Sun & Your Smile
The sun's rays are an excellent source of vitamin D, which is beneficial to you for many reasons including these three:
Assists with calcium absorption – Your body needs calcium to build stronger bones and teeth. But for your body to absorb calcium properly and efficiently, it needs vitamin D!
Helps prevent tooth decay – Several studies indicate that there's a positive correlation between vitamin D and the prevention of tooth decay. In fact, it can supposedly lower the risk of tooth decay by up to 50%!
Boosts your immune system – Vitamin D also ensures that your immune system is fully functional, helping to protect your body from germs, viruses, and sources of infection. Even though this connection is complex, many things that pose a threat to your body enter through the mouth or develop there, making it your first line of defense.
Keeping Your Smile Healthy All Summer Long
If you want your smile to be as healthy as possible this summer, you should prioritize your vitamin D intake. This is actually quite easy to do! Researchers agree that anywhere from 5 to 30 minutes spent in the sun every day is sufficient. However, be mindful of the negative effects of too much sunlight including sunburn and an increased risk of oral cancer. These threats are lessened by using protective gear, staying hydrated, and applying sunscreen and SPF lip balm.
Sunlight is undoubtedly the best source for supplying your teeth and gums with vitamin D, but your diet also plays a part in obtaining it! Fatty fish like tuna and salmon, milk, eggs, fortified cereal, and yogurt are all excellent sources of vitamin D.
But remember, your vitamin D intake is futile if you don't take care of your mouth! Continue brushing and flossing regularly throughout the summer, in addition to receiving enough vitamin D. Also avoid unhealthy oral habits like smoking or using tobacco. And of course, visit your dentist biannually for checkups and cleanings.
No matter what your summertime plans are, you should ensure that they involve plenty of time spent in the sun! Not only is the warmer weather meant to be enjoyed; the many benefits of vitamin D are certain to help protect and preserve your smile all summer long.
About the Author
Dr. Marc W. Moulton has over 30 years of experience in dentistry and is proud to serve patients and families in the Hoover community! Dr. Moulton received his dental doctorate from the University of Alabama Dental School followed by a one-year residency program with the Veteran's Administration Hospital. He is a member of the American Dental Association, the Alabama Dental Association, and the American Academy of Cosmetic Dentistry. If you have any questions about the article or would like to schedule a visit, feel free to contact Dr. Moulton online or by phone: (205) 988-3360.