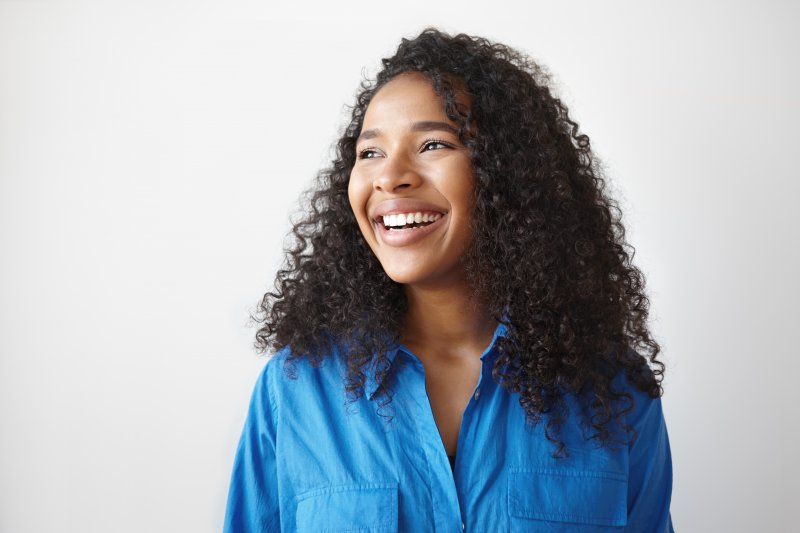 Whether you're missing pearly whites due to an injury or a dental illness, such as gum disease, it can cause you to need restorations like dentures to fill in the gaps. Even though there are roughly 170 million Americans who are struggling with this condition, there's still an overwhelming stigma about it. However, one TikTok influencer—Princess Glitterhead—is on a mission to challenge the negative ideas about needing dental restorations. Read on to learn about the latest social media trend she started and the benefits of dentures!
Who Is Princess Glitterhead?
A woman named Alicia (a.k.a. Princess Glitterhead) went viral on TikTok after sharing how she gets ready for her day. The major difference in this young mom's routine compared to many others is that she also has to put in her dentures. She gained popularity with her beautiful before and after photos, which have garnered over 10 million views and counting! After her video went viral, she began inspiring others to share their stories to break the stigma of needing dentures.
The Significance of Her Message to Others
Tooth loss isn't a dental issue that only concerns people over 50, meaning younger people can also struggle with this condition. Since this is rarely talked about, many patients hesitate to get the restorations they need and worry they might be stigmatized for their treatment. The importance of Alicia's videos is that she voices her concerns about self-esteem with dentures and how her loved ones would react. By communicating the emotional side, she empowers others to convey their worries as well. She also recently challenged her followers to show what they look like with and without dentures to further break the ice on the topic.
What Are the Benefits of Dentures?
Modern dentures are one of the most effective ways to replace missing teeth. You'll be glad to know that they aren't bulky like the past restorations, as they will be personalized to fit your exact smile. Not only are the materials durable for chewing, but your dentures will also seamlessly blend in with the rest of any remaining pearly whites.
If you're struggling with tooth loss, don't hesitate to ask your dentist about dentures. They'll be more than happy to discuss your options to fully restore your beautiful smile!
About the Author
Dr. Marc W. Moulton is a proud member of several groups like the Alabama Dental Association and the American Academy of Cosmetic Dentistry. He earned his dental doctorate from the University of Alabama Dental School and regularly seeks continuing education to expand his expertise. He offers a wide selection of treatments, including full and partial dentures, dental bridges, and dental implants to replace missing teeth. If you'd like to schedule a consultation, visit his website or call him at 205-988-3360.