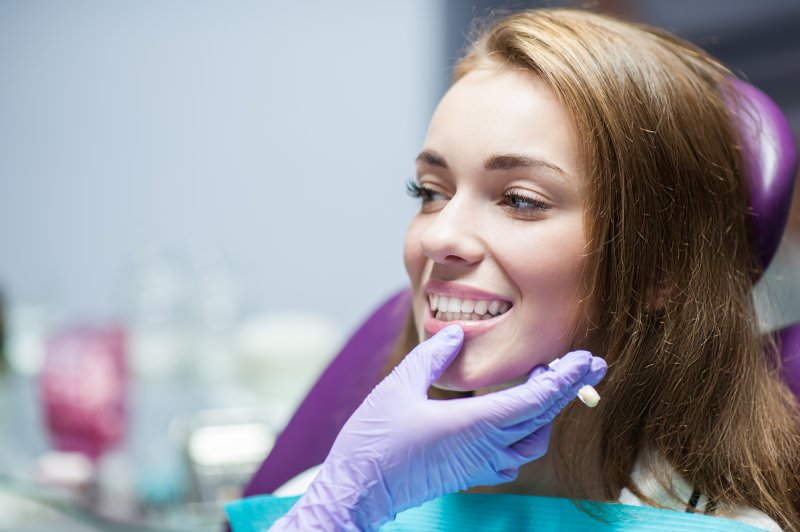 Some patients with an older dental crown may notice a black line forming near the gums. It makes it obvious that you've undergone dental work, especially if you have a big smile. Fortunately, your dentist in Hoover has seen it all and can fix your restoration in no time. They'll work with you to improve the appearance of your dental crown, so you don't have to live with the current result. Read on to learn what causes a black line around a dental crown, how your dentist can get rid of it, and ways to prevent it from happening.
Why Do Black Lines Form Dental Crowns?
More often than not, a black line around a dental crown is caused by one of two things:
Metal from the dental crown showing through. Porcelain fused to metal crowns are one of the oldest types of dental crowns available. There's usually no black line when the crown is fitted because it's hidden under the gum line. However, aging causes your gum line to recede, which can expose the border between your dental crown and natural tooth.
Shadows around a dental crown. In some cases, the black line is an optical illusion caused by a poorly fitting dental crown. It casts a show over the surrounding area, creating the appearance of a black line.
How Can Your Dentist Get Rid of the Black Line?
The only way to get rid of an unsightly black line forming around the dental crown is by replacing it with a new porcelain one. Since the material is shaded to match your natural teeth, it'll blend seamlessly with your smile! You don't have to worry about a dark line developing near the gum line because porcelain crowns do not contain any metal. As a result, you can enjoy a younger and healthier-looking appearance.
Benefits of a Metal-Free Dental Crown
Replacing your old dental crown with a metal-free one will eliminate the chances of a black line forming near the gum line. Additionally, you can enjoy numerous benefits that your metal restoration can't offer, such as:
Natural-looking appearance
Long-lasting and durable results
Mercury-free restorations
Safe and effective option for pregnant women
Do you have a black line around your dental crown? Contact your dentist in Hoover to get it fixed right away. With their help, you'll have a more confident and healthier smile in no time!
About the Practice
At Moulton Dentistry, we offer high-quality, personalized, and comprehensive dental care to patients of all ages. Our team uses the latest techniques and materials to ensure you get the results you deserve. If you want to replace your old crown with a metal-free one, we're more than happy to do it for you. You can make an appointment via our website or call (205) 988-3360.