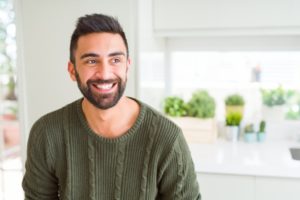 According to the Centers for Disease Control and Prevention, one out of two adults in the United States has gum disease. Despite this oral health problem being so prevalent, it's actually easier to prevent than to treat, which is why taking advantage of your dental insurance benefits before they renew on January 1st could help not only save your wallet, but also the foundation of your smile. Read on to learn more about gum disease and how you can keep it from developing.
What is Gum Disease?
Gum disease is also commonly referred to as periodontal disease, and it has different stages. As bacteria begin to accumulate in the mouth due to poor oral hygiene and a buildup of plaque and tartar, you may notice that your gums bleed whenever you brush or floss or that you have bad breath that won't seem to go away. These are the early signs of the condition, called gingivitis. At this stage, the infection can be treated and even reversed to restore the health of the gums.
As more bacteria accumulate in the mouth and the soft tissue infection becomes worse, you may notice signs like gum recession, loose or shifting teeth, or even tooth loss. These are all signs of more severe gum disease, known as periodontitis. At this stage, the symptoms can only be managed by your dentist with routine deep cleanings. These can help prevent tooth loss as well as worsening symptoms.
How Can You Prevent Gum Disease?
There are two important ways to prevent gum disease from developing: maintaining a good at-home oral hygiene routine and visiting the dentist once every six months for checkups and cleanings. Both of these habits combined will keep plaque and tartar from accumulating in the mouth, making it a perfect home for bacteria that can infect the gums.
How Can Using Dental Insurance Benefits Help Protect the Gums?
If you're wondering how your dental insurance benefits play a role in keeping gum disease at bay, it's because most plans cover 100 percent of the cost of two checkups and cleanings a year, as long as they're scheduled six months apart from each other. During these visits, your dentist will examine the health of your gums to make sure that any early signs of infection are taken care of while the condition is still reversible. The cleaning will also ensure that plaque and tartar don't have an opportunity to build up in the mouth and lead to periodontitis.
Not only does staying on-top of your oral health by scheduling bi-annual dental visits help keep your gums, which are the foundation of your smile, happy and healthy, but it can also save you from needing more expensive procedures, like scaling and root planing. By taking care of your smile and maximizing your benefits, your wallet and pearly whites will be thanking you!
About the Author
Dr. Marc Moulton has over 30 years of experience in the dental field. He enjoys being able to help his patients maintain complete and healthy smiles throughout their lifetimes, which is why his main focus is providing thorough preventive dental care. He uses the latest technology and a discerning eye to spot the early signs of common oral health problems, like gum disease, before it's too late. He also provides personalized periodontal therapy to keep symptoms of periodontitis from progressing and leading to tooth loss. For questions or to schedule a checkup and cleaning, visit Moulton Dentistry's website or call 205-988-3360.